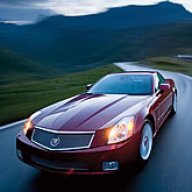 Seasoned Member
Staff member
Site Administrator
Joined

Oct 7, 2006
Messages

5,442
Location
My XLR/V(s)

Not yet!
Do you agree or disagree?
------------------------------------------------------------------------
Greed, not unions, brought GM down
Wednesday, June 10, 2009 11:13 AM CDT
Bowling Green Daily News
by Eldon Renaud, UAW President, Local 2164
Bowling Green, Kentucky
General Motors recently celebrated 100 years in business. During that time, it has contributed to the success of communities throughout the United States. It paid good wages and benefits which brought about the middle class and health care for millions. It contributed to the success of our nation in war time and peace. It provided jobs, education and dignity for its employees.
Until the U.S. economy failed, GM was successful. The unions didn't bring down GM. In fact, if all the workers were paid nothing, GM would still be in bankruptcy. Thanks to the greed of bankers, mortgage loan companies and some unscrupulous investors, the U.S. economy failed. Without credit and consumer confidence, most car companies, including Toyota, face multibillion dollar losses.
Full editorial:
http://www.bgdailynews.com/articles/2009/06/10/opinion/letters/letter5.txt