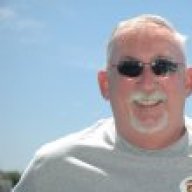 Joined

Oct 2, 2015
Messages

1,446
Location
My XLR/V(s)

2006 Base Infrared
Looks like the Kenwood DNX893S is going to work in my XLR. They are buttoning up everything now after about 3 hours. Added a backup camera and Sirius/XM. I'll update as soon as I take possession of the car.
Follow up:
First off, the guys at Houston Car Stereo on Hillcroft in Houston are jam up guys, willing to do anything to make a happy customer. Their leather sofa in the waiting room never made me tire of sitting.
We used the Metra GMOS-06 network adapter, PAC-TR7 and the PAC SWI-RC steering wheel adapter.
The owner was very good in trying these adapters out, even though every catalog does not list them as suitable for our XLR vehicles. At the very least I would get an updated Nav unit in my car with sound bypassing the Bose system using the Kenwood's amp along with a much needed backup camera. If everything worked as hoped for, I would retain OnStar, Bose, and all the other things that go along with it. I would also retain control over the steering wheel controls as well. After a couple of hours in the shop, the owner came out and said everything was working, Bose, OnStar, backup cam but they had no sound output. I immediately pulled up the wiring diagram that is in the thread "App Radio" and showed it to the tech. He had me text him the link to h is phone, he pulled it up and within 10 minutes we had some serious sound coming from the Kenwood. So I have a new Kenwood Nav unit, with HD radio, Garmin navigation, Android Auto, bluetooth phone and music plus DVD that can play while driving if the passenger/co-pilot wants to watch a movie. I'm not sure I'm going for a Sirius/XM tuner as I have it on my cell phone and can port it over to the Kenwood via bluetooth, time will tell and it's an easy add-on later
The steering wheel controls work for the volume up/down and instead of "Source" for the smaller button it's a scan button for whatever media source
I'm listening to at the moment.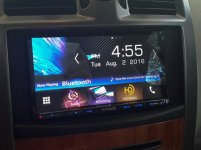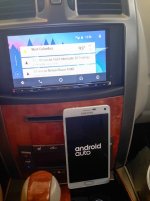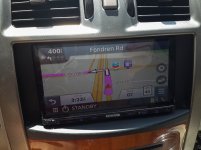 <iframe src="https://player.vimeo.com/video/177311048" width="640" height="360" frameborder="0" webkitallowfullscreen mozallowfullscreen allowfullscreen></iframe>
<p><a href="https://vimeo.com/177311048">20160802_165607[1]</a> from <a href="https://vimeo.com/user35609895">Rex McCall</a> on <a href="https://vimeo.com">Vimeo</a>.</p>
Last edited: